BECOME A MEMBER
ASSOCIATED ELECTRICAL CONTRACTORS
AEC is a unique group of hardworking independently owned Electrical Contractors Serving the Midwest.
Associated Electrical Contractors is a Part of the Midwest Carpenters Union and is united under Local 57. We believe in a better way of doing business. Paying our employees a fair wage and offering competitve benefits including pension and retirment plans. We do not have a hiring hall and our members help train the apprentices.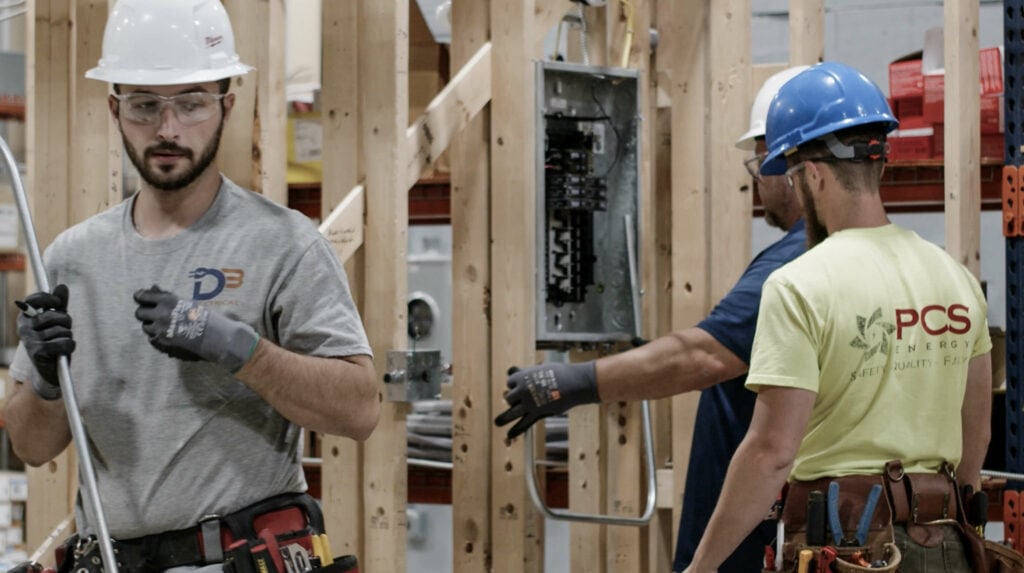 Member Requirements
A certificate of Workmen's Compensation Insurance against injury – certificate must provide for coverage in the State of Missouri and/or Illinois, and show "St. Louis-Kansas City Carpenters Regional Council" as the certificate holder.
You must provide surety for payment of wages and fringe benefits to our members. We encourage you to set up an "Irrevocable Letter of Credit" through your bank, or other financial institution, sample enclosed/attached. You may discuss the amount of the "Letter of Credit" with Shawna Pastrana at 314-644-4800, ext. 5235. If you are unable to set up a "Letter of Credit", you may apply for a wage and welfare surety bond through your insurance company. The minimum amount for the bond is $25,000.00. Certificate holder will be: St. Louis – Kansas City Carpenters Regional Council.
It will be necessary to obtain a State Withholding Tax ID# from Missouri and/or Illinois. In order to obtain a Missouri tax registration packet, please contact the Department of Revenue – Forms Department, at 1-800-877-6881, or via internet at www.dor.state.mo.us\tax\forms. Their fax number is (573) 751-4800. For Illinois, please refer to the internet site at www.revenue.state.il.us/Forms. It is necessary that you furnish this office with your Missouri and/or Illinois State Withholding Tax ID# AND your Federal ID#.
The Employer will comply with Federal law by furnishing check stubs or receipts showing the gross amount of each check, itemized deductions and hours worked (or amount for) both regular and overtime. No 1099's are to be issued to our members. Our members working for you are NOT self-employed contractors.
We require that your company be incorporated, or you may obtain an "LLC". It will be necessary to furnish this office with a copy of your Articles of Incorporation.
The contractor/employer will be responsible for furnishing and having completed both W-4 and I-9 forms. We do not have these on file.
You must sign and return the "Voluntary Recognition Under Section 9(a)" form.
You must sign and return the contract Signature Page.
If you have any questions, please don't hesitate to contact this office at 314-644-4800.